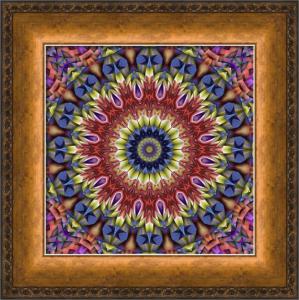 The 'Natural Attributes' Collection -- Elegance, enthusiasm, and whimsy, through patterning, precision, and color.

SAN ANTONIO, Tex., USA – January 29, 2014 / – Wendy J. St. Christopher, digital artist and photographer, introduces an intriguing collection of twenty new images, based on the colorful patterning of kaleidoscopes and mandalas. The 'Natural Attributes' collection, is seen online, at http://www.art166.com


After viewing her art, it's easy to imagine Wendy J. St. Christopher as a child, gazing into a kaleidoscope and daydreaming an afternoon away.

"I grew up on the wrongest side of the wrong side of the tracks," she says, with a wry grin. "In those drab, dreary days, I was always happy to lose myself in the colorful and unexpected -- which I usually found in the pages of books, or the Sears catalog. Now, 'colorful and unexpected' are the primary focus of my art."

Wendy's newest collection of images, titled 'Natural Attributes', is...